the basis
of Rioja
Tempranillo is the Rioja grape par excellence, the cornerstone of its great red wines and one of the most highly regarded winemaking varieties in the world. It covers 75% of the crop area of Rioja and as the oenologist José Hidalgo Togores explains, according to recent studies based on its DNA, conducted by the Instituto de Ciencias de la Vid y del Vino (ICVV – Institute of Vine and wine Sciences) and the Instituto Madrileño de Investigación de Desarrollo Rural, Agrario y Alimentario (IMIDRA – Madrid Institute for Rural, Agricultural and Food Development Research), its origins have been established as being a cross between the white albillo mayor (turruntés) variety, originally from Castilla-León and described by Alonso de Herrera in 1513, and the red benedicto variety from Aragón, described by Nicolás García de los Salmones in 1914 and which nowadays is on the point of extinction.
The first existing reference to tempranillo takes us back to the Tratado de Agricultura General (Treatise of General Agriculture) of Alonso de Herrera (1513) in which he describes it under the name of Aragonés in this way: 'A compact grape. It has large, tightly bunched clusters of large grapes. They are very productive vines. They make a very deep purple wine that does not last long and which greatly improves if you mix it with other white grapes'.
The first mention of the cultivation of tempranillo in Rioja is by Valcárcel in his book Agricultura General (General Agriculture – 1791), in a work in which he cites tempranillo in Rioja along with varieties such as garnacha, mazuela and barbés (possibly modern-day graciano). He refers to it thus: 'it is almost the same quality as the barbés, but the skins are tougher, the cane is strong, it moves in search of height and is harvested fifteen days before the garnacha and mazuelo. It makes a fairly strong wine'.
In 1807 S. Clemente makes a second known reference of tinto fino with its current name when he mentions the tempranillo of Logroño and the tempranillo of Sanlúcar: 'A variety with upright canes, leaves with four to six segments and large serrations, firm, fleshy grapes with very dark juice, tasty and early-ripening'. Clemente asserts that this variety has its origins in Logroño and tells how 'the bees devour the grapes before they finish ripening'.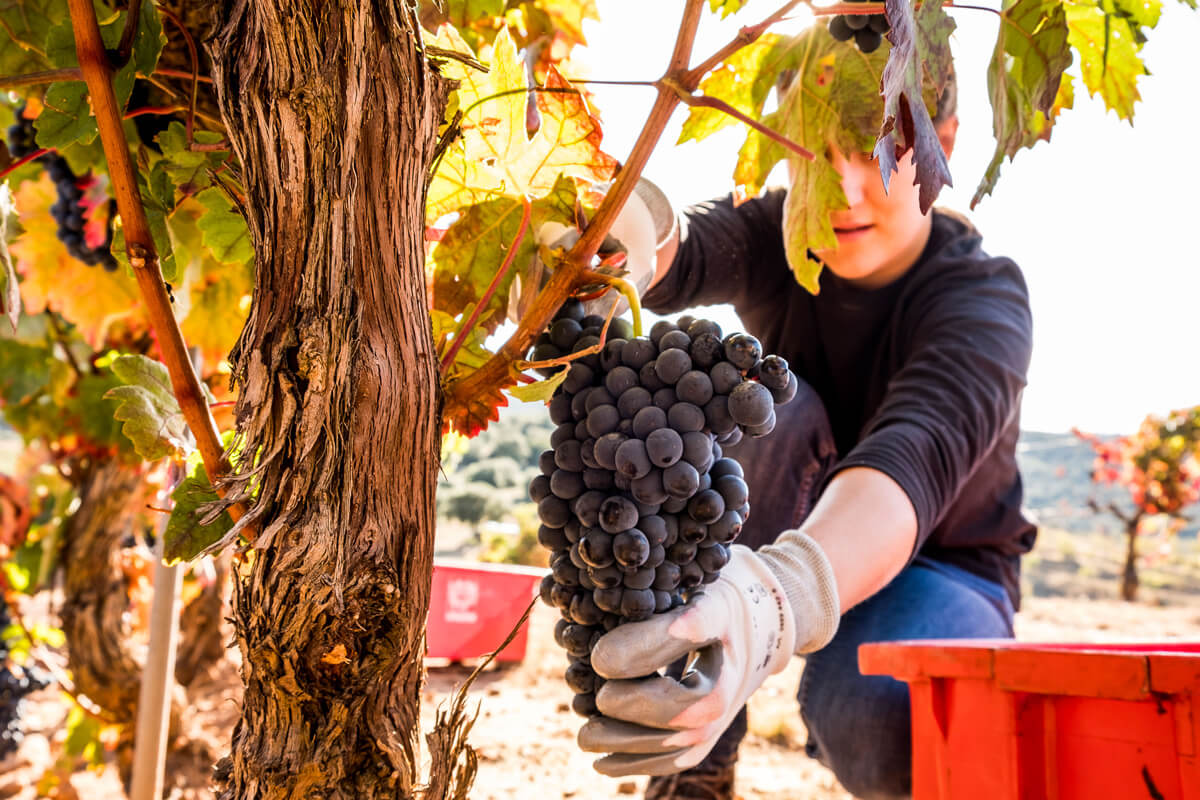 In 1885, E. Abela, in El libro del viticultor (The winegrower's handbook), describes the tempranillo of Peralta or of Rioja in the following way: 'Hard canes, not very spread out; leaves with four to six lobes, with large serrations, very black, tasty, early ripening grapes'. Abela states that it is grown in Navarre and Rioja, in Zaragoza under the name of Cencibera; Tinto Aragonés in Castilla and Coregón in Tarragona.
In 1905 Manso de Zúñiga places the cultivation of tempranillo in Rioja, Navarre, Burgos and Soria. Of its origins, he suggests it may be Riojan and describes the vine thus: 'Arched, stretched out canes, not upright, large leaves; five-lobed and webbed, deep sinuses, a closed petiole sinus, dark green upper surface of the blade, whitish hairs on the underside. Very large clusters with clear shoulders or wings, two or three, elongated, conical, cylindrical shape. Berries: large, round, intense dark black colour, thickish skins, firm colourless pulp'.
Until 1954 the synonym of tempranillo from Rioja with tinto fino from Madrid and cencíbel in Valdepeñas does not appear. It comes from Juan Marcilla Arrázola who points out the big differences between wines from La Mancha and those from Rioja and mentions the importance of factors such as soil, climate, growing practices and the ways the wines are produced in determining their characteristics.
José Peñín in his book Cepas del Mundo (Vines of the world), assesses tempranillo as a variety which grows well in calcareous clay soils, offers wines with a pleasant reminder of blackberry or bramble, with a fresh, dry sensation in the mouth, compared to most Spanish grapes, which produce wines with a slight sweetness and quality. It has the virtue of the cold or Atlantic vines which withstand cask ageing very well: good tannin structure with colour and persistent acidity during ageing.
La colección de variedades de vid de 'El Encín'.
Un recorrido por la historia de la Ampelografía.
A variety originally from Rioja and cultivated in numerous vineyards all over the world. The name seems to be derived from the term "temprano", meaning early, due to its tendency to ripen early. It is a widely cultivated variety which is also grown in Portugal, the south of France, Argentina, USA, Australia, Morocco, Brazil, Venezuela, Uruguay, Mexico and Thailand. It is known under various names: Tinta del Pais, Tinto de Toro, Tinta Fina, Cencibel (in the region of la Mancha), Tinto de Madrid, Ull de Llebre (in Catalonia), Ojo de Liebre. In addition it receives the names of Aragonez and Tinta Roriz in Portugal.
Shoot with an open tip, fluffy, white, slightly purple-coloured. A large leaf with five lobes and the central lobe elongated. U-shaped petiolar sinus with edges which tend to close and slightly overlap, upper lateral sinuses with overlapping edges, deep lower sinuses; tomentose edge, undulate, medium to large serrations with straight sides. Medium-large cluster, cylindrical with one wing, compact and weighing on average 300 grams. Medium-sized round, berry.
Aptitudes for cultivation
A vigorous vine with an upright bearing. It adapts to all kinds of soils and climates, preferring well-oriented soils and dry climates. In addition, it adapts well to conditions for cultivating in tropical climes, where it produces good, consistent yields (Thailand, Venezuela and north-eastern Brazil). Sometimes it can suffer from leaf burn and a blocking of ripening due to intense exposure to the sun, with negative effects on the quality of its musts.
Sensitivity to diseases and adversities
Prone to botrytis, downy and powdery mildew. Not very sensitive to spring frosts, prone to irregular fruit setting. Sensitive to warm winds.
It provides wines with a deep, stable colour, suitable for cask ageing, with high alcoholic strength, medium or slightly low acidity, well-balanced with the typical aroma of tobacco leaves and spices. It is often used in blends with other red grape varieties, such as Cabernet Sauvignon, Cariñena, Merlot or Monastrell.
It adapts to various ways of training or pruning, both in low-growing vines with short spurs and on trellises with long Guyot pruning.
Catálogo general de las variedades y los clones de uva y de vino de mesa.
Vivai Cooperativi Rauscedo sca.
Queirón
vineyards
with
tempranillo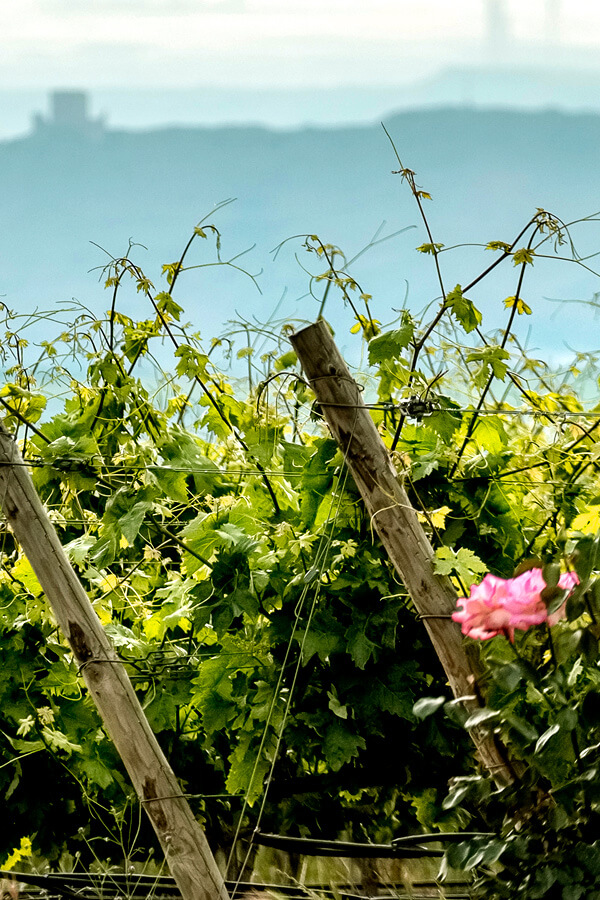 ///viñedo de Quel ///tempranillo
Hoyo Judío
The viticulture of an alchemist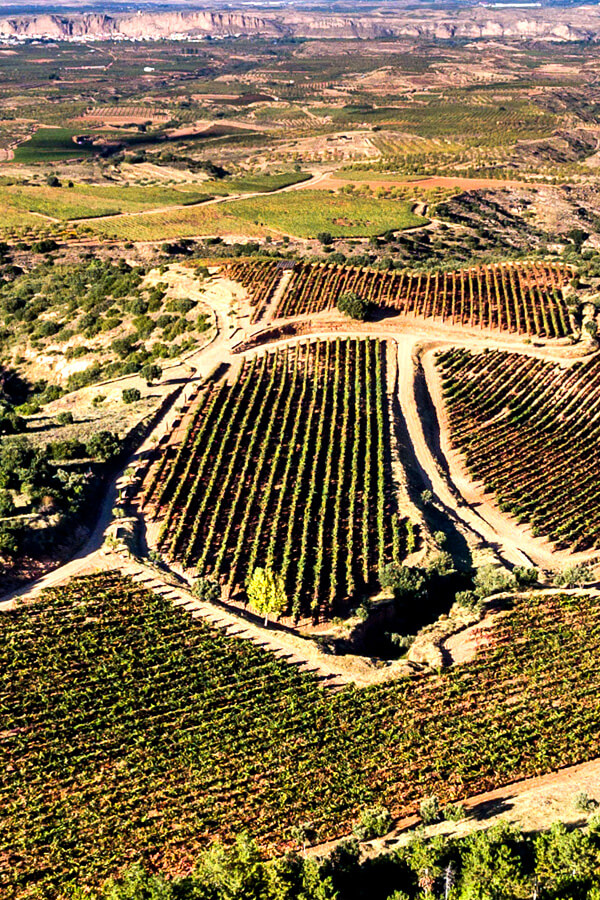 ///viñedo de Quel ///tempranillo
La Pasada
A vineyard between three climates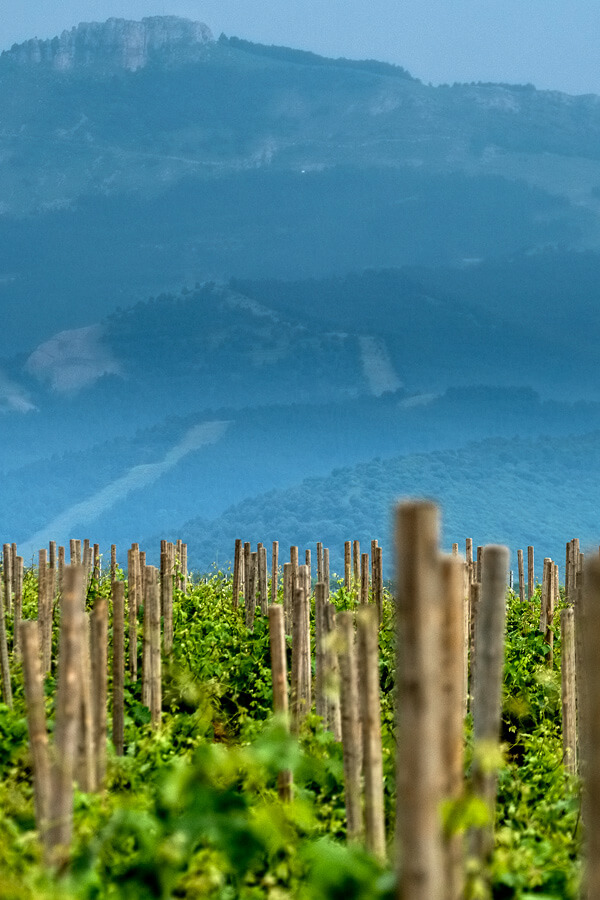 ///viñedo de Quel ///tempranillo
Los Palos de Tanis
Verticality and elegance