the great unknown
from Rioja
Graciano is a minority grape variety with its origins in Rioja and rarely found in other regions. Traditionally it has formed part of the blends of the Rioja Gran Reservas along with tempranillo, garnacha and mazuelo. It is a low-yielding variety, with late shooting and very long ripening. It produces wines with very intense colour and not very alcoholic. Its aroma is exuberant and its musts have a vibrant wine-red colour. Pleasant, high in acidity and very fragrant, they evolve towards the smell of freshly cut wood.
Juan Marcilla Arrázola (author of the Tratado práctico de viticultura y enología españolas (Practical Treatise of Spanish Viticulture and Oenology) of 1.942) considers that the characteristic Rioja perfume is due to the inclusion of this vine which brings finesse and quality to the coupage, heightening the aromatic potential of the tempranillo.
Its origins are from La Rioja and Navarre, where traditionally it has formed and forms part of the great blends of crianza, reserva and gran reserva wines together with mazuelo and garnacha (hence its name as it is used to give the wines "gracia" (maybe here in the sense of "panache") by providing colour and freshness), although recently there has been a trend towards making signature wines from 100% Graciano, which are winning a great reputation and a lot of followers. Studies and DNA tests suggest that Monastrell (which was previously thought to be a Spanish synonym for the French mourvèdre grape, a name derived from the former name of Valencian town of Sagunto: Morvedre) is, in fact, Graciano. The Monastrell grape, unlike the Graciano grape in Navarre and La Rioja, is one of the most widely cultivated grapes in the south-east of Spain.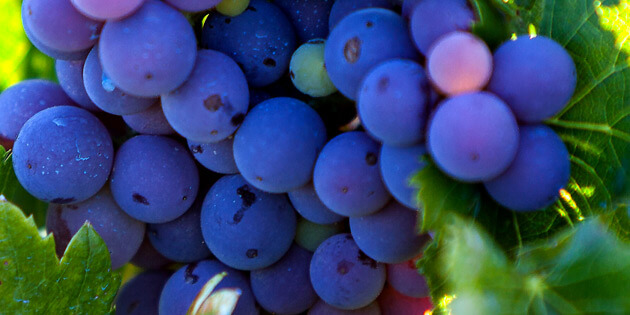 It produces wines with high acidity and polyphenol content, ideal for ageing, with a very characteristic aroma, higher in intensity than the other varieties in Rioja. The synonyms found in ampelographic collections from around the world are: Bastardo Nero, Bordelais, Cagnolale, Cagnovali Negro, Cagnulari, Cagnulari Bastardo, Cagnulari Sardo, Caldaredou Caldarello, Cargo Muol, Couthurier, Graciano Tinto, Gros negrette, Minustello, Morrastel, Tinta do Padre Antonio, Tinta Miuda, Tintilla, Xerez, Zinzillosa
Ampelographic characteristics
Shoot with an open tip and marked anthocyanin pigmentation and a cottony appearance, medium-sized leaf with five lobes and a pentagonal shape. A closed U-shaped petiolar sinus. Large cluster, short cylindrical shoulders, less noticeable than in Tempranillo and not hanging. Round, intense black-coloured berries, relatively small in size, waxy, thin-skinned and with hard, colourless pulp and very large pips. From a distance the shooting vines together have a reddish look, making them easy to spot in spring.
Aptitudes for cultivation
Good vigour and upright bearing. Tolerant to drought, it adapts well to all kinds of soils.
Sensitivity to diseases and adversities
Medium-high sensitivity to downy and powdery mildew. Prone to botrytis; very sensitive to the damp.
Provides aromatic wines with a lively red colour and high acidity, used especially for making blends to achieve great longevity.
It adapts to contained forms and short pruning.
Catálogo general de las variedades y los clones de uva y de vino de mesa.
Vivai Cooperativi Rauscedo sca.
Queirón
vineyards
with
graciano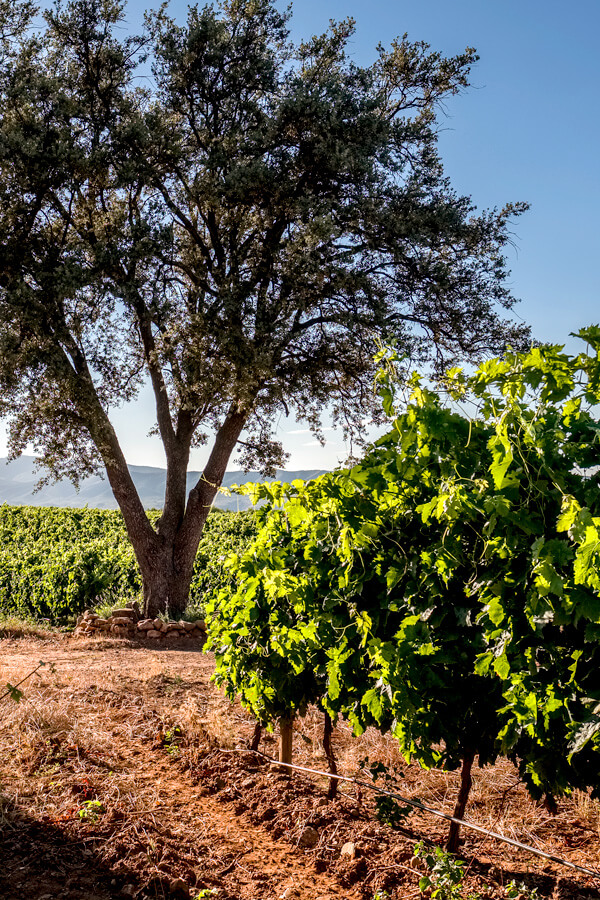 ///viñedo de Quel ///graciano
El Pozo
Graciano's expression